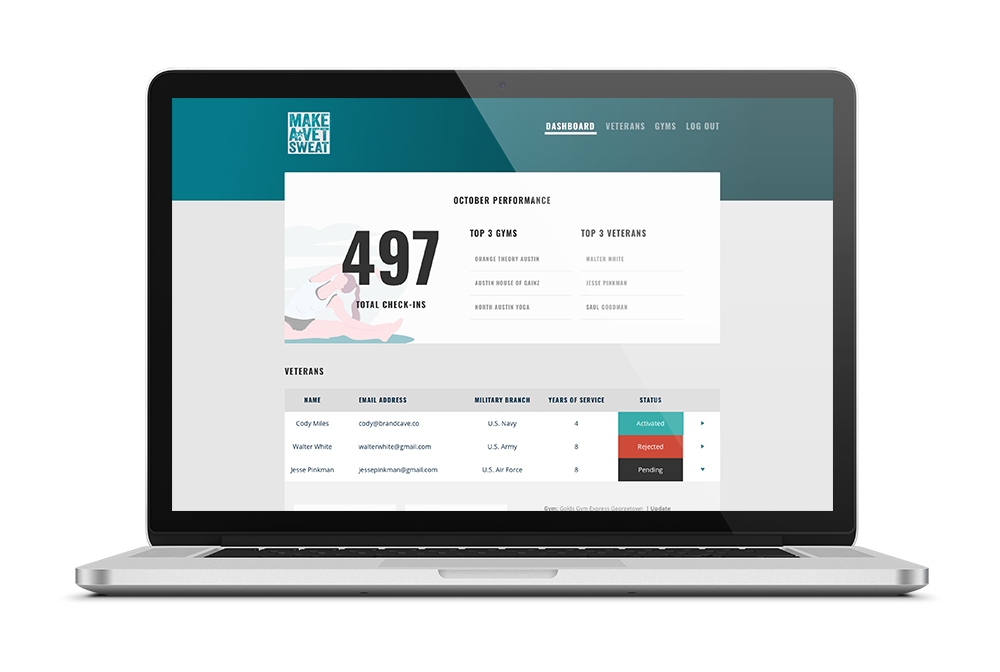 We Worked With Mike Rowe to Make a Vet Sweat and Fight PTSD
Solutions
Mobile & Web App
Outcome
300+ Veterans Served
Make a Vet Sweat (MAVS) was founded with the admirable mission to support veterans with PTSD. The organization does this through a unique approach: gym memberships. It sponsors veterans and their spouses in the Austin, TX area for three month gym memberships, giving them the opportunity to work out and find support in a community of like-minded individuals.
This amazing organization soon realized it faced a problem: as more veterans seek out the resources MAVS can provide them, connecting soldiers with sponsoring gyms was becoming increasingly difficult for their volunteers to keep track of. Their previous system, relying on spreadsheets and manual recording, would no longer suffice at the rate of growth this non-profit was experiencing.
The solution was clear: MAVS needed an app. With a mobile application, the benefits would be two-fold. Veterans could use the app to locate friendly gyms that work with MAVS and check in for workouts. Volunteers would then be able to track memberships and usage from the activity on the app.
Thanks to the help of Mike Rowe's show, Returning the Favor, Vice Software was able to make the dreams of MAVS a reality. We built a web and mobile app to fulfill all of their needs. Now, vets are able to connect with gyms that support them as they use the therapeutic power of fitness to cope with PTSD and other traumas of military life. Meanwhile, MAVS is able to accept applications for vets and gyms through the app and easily manage them.
By delivering a web and mobile app that streamlines the connection between vets and gyms, Vice Software has given MAVS the freedom to be able to expand outside of the Austin area someday. If your non-profit organization is in search of a tech solution that will give you the ability to scale and enhance your services, Vice Software loves to partner with good causes. Contact us today and tell us about the project you have in mind to change the world.
"We work hand-in-hand with software companies and startups to bring brilliant ideas to life. Our software has helped customers generate over eight figures in revenue!"
Ryan Vice | CEO
Get a Quote