At a Glance
Building custom software is incredibly hard and most projects never get out of development and in front of users. Because of this cost is not the only factor you should consider. However you are busy and there are lots of options so below is what projects generally look like with us from a time and cost perspective.
Most Vice Software projects:
Take 3-6 months to complete.
Have development teams costing $14-25k a month depending on team size.
Have design costs between $5-10k.
Require a deposit $12-30k before development begins depending on the size of the project.
That said, your most affordable options is the most affordable option that gets your app in front of users not just the lowest estimated cost. We've seen projects with our competitors fail time and time again so please take the time to see the measures we go to to ensure your project gets out of development and in front of your users.
I've Got an Idea, Now What
So, you have a brilliant idea for a software application – now, it's time to bring that idea to life. Developing custom software for the first time can be confusing (to say the least), but Vice Software is here to show you the ropes. We don't believe in a cookie-cutter approach to software development, so the details will differ depending on your application's unique needs.
However, there are some things you can expect when working with us. This article discusses your choices when it comes to choosing a software development company, the steps we take to build your application, and pricing for our typical project.
Types of Software Companies
There are many choices to look at when it comes to selecting a software development company, so we've included a brief summary of your options below. Interested in learning more? Check out our blog, Custom Software Development Costs.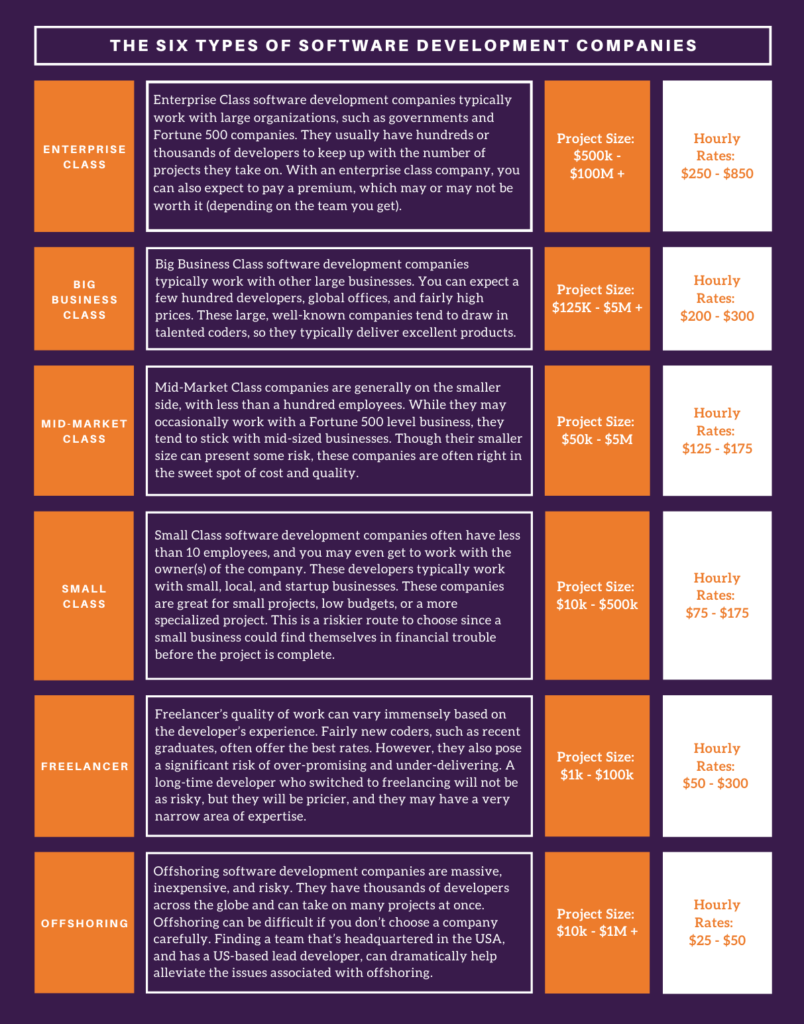 Building an App With Vice Software: Overview
A Little About Vice: Vice Software doesn't fit into any one software development category, we strive to bring our clients the benefits of each. To keep our client's costs low and the app's quality high, we build the software architecture (similar to a blueprint) onshore and develop the software itself offshore. This allows us to create beautifully designed software and impressive functionality without emptying out your bank account.
Let's cut to the chase: what's it going to take to develop an app? Every software is unique, so the exact details will vary from project to project. However, with most software applications, you can expect the following: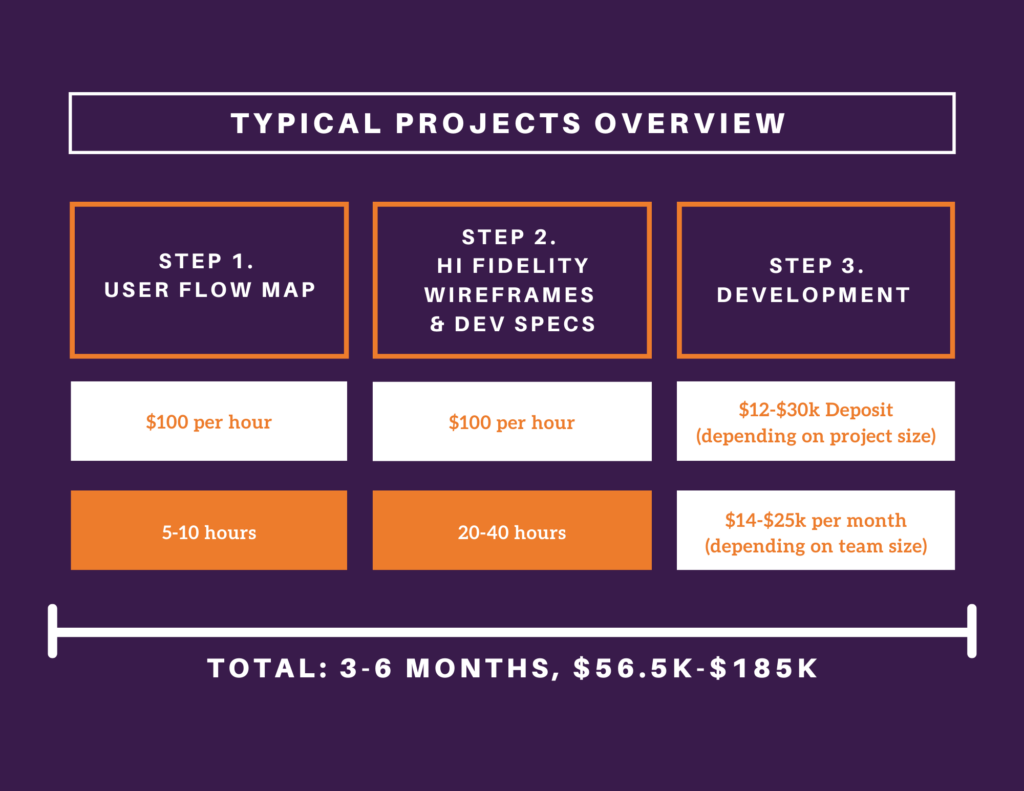 Building an App With Vice Software: The Details
Phase One: design
We begin most projects with the UX design done by our friends at Brandcave. The design phase must be completed before we can fully estimate the time and costs associated with the development phase. There are two steps in the design phase:
Step One: User Flow Map
A User Flow Map takes you through every step the user takes to complete a given task. They look and function similarly to flow charts, the difference being that they include visual interfaces and gestures. It typically takes 5-10 hours at a rate of $100 an hour to complete the User Flow Map.
Step Two: High Fidelity Wireframes and Dev Spec
High Fidelity Wireframes are a more complete version of Low Fidelity Wireframes; they are meant to show clients the look and feel of their software, including actual typefaces, colors, content, imagery, and dimensions. Dev Specs are documents containing information about the software's design, including interface design and functionality. Our developers use the Dev Specs to build the software exactly how it was meant. It typically takes 20-40 hours at a rate of $100 an hour to complete the High Fidelity Wireframes and Dev Spec.
Phase Two: Development
Projects will require a deposit before development begins. This will typically cost between $12k and $30k, depending on the project size. The software development itself will cost around $14-$25k per month, depending on the size of the team.
Pricing Breakdown
Below is the pricing breakdown for a large project. Not all projects require a full team (such as the one below) – if your project takes fewer people, it will cost less.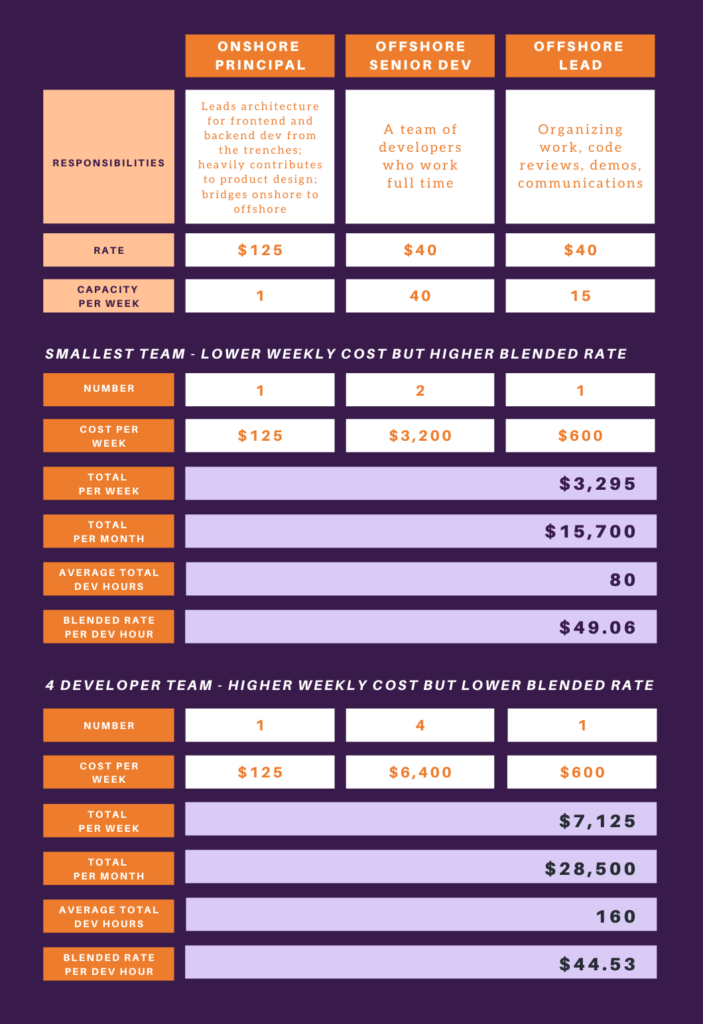 Funding
It can be very difficult to get funding before the software is complete, especially without proof of concept or users. It's a little easier for B2B's and SaaS B2C's who can reach out to their existing partners, but for first-time app creators, your best bet is usually friends and family. You can also shop for funding with the design assets (User Flow Map, Wireframes, and Dev Spec), which you can show to potential investors, banks, and crowdsourcing platforms.
Ready to Make an App?
Now that you know what to expect when building an app with Vice Software, let's get started! We know it's a big investment to build an app, so we strive to make the process of building beautiful software a pleasant one. And if you need delivery software for your cannabis business, you can visit https://www.blaze.me/cannabis-delivery-software/.